MUNICH BEER TOUR
… with Schnapps Tasting and Food. Affordable and fun!
"More than just a Munich Pub Crawl. With us, you get your money's worth."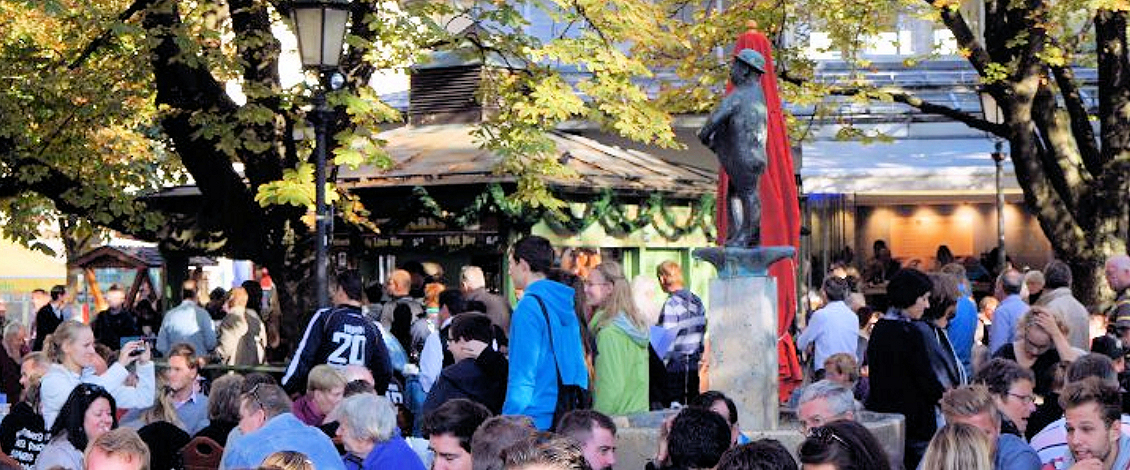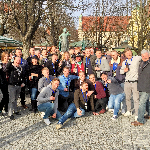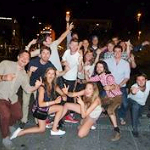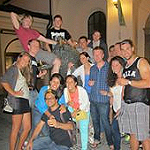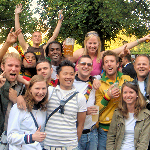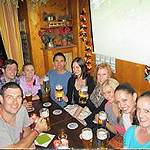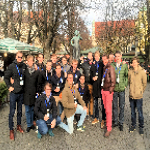 Bavarian Beer & Schnapps Tour
If you enjoy beer, want to progress on your path to being a cicerone (a.k.a. beer sommelier) and/or add to your beer app (e.g. Untappd) content, this Munich Beer Tour is for you. We visit a minimum of 5 different beer halls and beer gardens on our Munich beer tour. Each location is sponsored by a different brewery. With all the breweries in Bavaria, we strive to introduce you to taste as many as we can. Each beer hall offers a unique atmosphere (Gemütlichkeit) and we're served regular local size beers, not small samples, in every location.
Too much is better than not enough, especially when we feel you will enjoy it. Each brewery sponsored location offers an average of 5 different beers. Your guide will describe the flavors of each one to help you make your best possible selection. By the end of the evening, most guests are comfortable selecting beers to suit a new-found refined taste.
Like our beer, this tour started organically. After the morning City Immersion Tour, guests wanted to continue on with their guide and other guests over beers. It proved to be a good time to relax further and socialize. Regardless of level, this is one of the most affordable and comprehensive tours out there. Read the notes at the bottom of this page and see the value.
Munich Beer Tour: Silver Level (… for little appetites)
Food: 1x Roasted Bavarian Pork Sandwich
Beer: 2x ½ Liter … with up to 5.6% alcohol content
Schnapps: 2x 20 mL … with up to 40% alcohol content
Official souvenir Bavarian Beer Bottle Holder ® … a 4,95€ value at Hermann's Munich Souvenirs
Bavarian Beer halls | Beer gardens: Minimum of 5 … Each sponsored by a different Bavarian Brewery
Munich Purity Law ("Reinheitsgebot, 1487"), beer brewing history & culture
Stories of the annual Oktoberfest and more
Rate: Silver Level, all inclusive
23,00€ + Germany 19% VAT + Beer Hall Server 10% Tip = 30€
Munich Beer Tour: Gold Level (… Recommended)
Food: 1x Roasted Bavarian Pork Sandwich
Beer: 6x ½ Liter … with up to 12% alcohol content
Schnapps: 3x 20 mL … with up to 50% alcohol content
Official souvenir Bavarian Beer Bottle Holder ® … a 4,95€ value at Hermann's Munich Souvenirs
Bavarian Beer halls & beer gardens: Minimum of 5 … Each sponsored by a different Bavarian Brewery
Munich Purity Law ("Reinheitsgebot, 1487"), beer brewing history & culture
Stories of the annual Oktoberfest and more
Rate: Gold Level, all inclusive
42,00€ + Germany 19% VAT + Beer Hall Server 10% Tip = 55€
Walking Distance & Duration
Under 2 kilometers | Under 1 mile
Approx. 5 Hours
Schedule (Pre-registration is required for this tour)
Open Group: Monday through Saturday, excluding Public Holidays
Private Group: Offered daily
Meet & Greet Location
Marienplatz | Mary's Square (a.k.a City Center) @ 17:00 (Start time)
Marienplatz 1, 80331 Munich (Click for Map)
Stand by Mary's Column, next to the statue of the "Putto slaying the Snake"
Public Transportation System (MVV Schedule)
Marienplatz
Languages and Notes
Legal Drinking Age is 16 years old for alcohol under 14% ABV.
Legal Drinking Age is 18 years old for all alcohol.
Average menu price for beverages in Munich beer halls is 4,50€ per half liter. (Compare prices: Hofbräuhaus Menu).
Tipping a server is standard in Munich beer halls, restaurants and bars at 10% and is not included in the menu price or bill.
Additional food and beverages are available for purchase in each location.
Open Group Tour Language: English
Private Tour Language: English
Private Tours available to: Individual, Family & Friends, Corporate and Student-/School-/University-Groups and Bachelor(-ette) Parties
Private Munich Beer Brewery Tours available upon request.
This tour complements and pairs well with the City Immersion Tour